Most people will experience at least one legal issue over the course of their lifetime. It is always a good idea to seek legal advice from a lawyer, however, the cost of retaining private counsel for the duration of a legal matter is financially out of reach for many. Not everyone or every matter will qualify for Legal Aid, and the notion of representing yourself throughout a legal proceeding can be daunting and overwhelming.
There are, however, some cost-effective tips to consider when working with a lawyer to help reduce your legal fees and ensure there are no unexpected surprises when you receive a lawyer's bill.
Professor Cynthia Chewter is an instructor at Dalhousie's Schulich School of Law. She prepared a helpful list of 10 Tips for a Cost-Effective Lawyer-Client Relationship. We look at some of the key take-aways in Professor Chewter's 10 tips below. The tips can also be accessed in French here.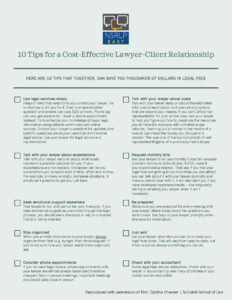 Professor Chewter encourages you to have conversations with your lawyer about costs and expectations frankly and early. Talk with your lawyer about the estimated costs of your legal matter and rule out options that are beyond your means. If you can't afford full representation, speak with your lawyer about how to maximize the resources you do have (for example through unbundled legal services or a limited scope retainer). Discuss your expectations of what a positive outcome would look like with your lawyer upfront; they can let you know whether your expectations are realistic before you've spent a lot of money on their services.
You can also ask your lawyer to send you monthly bills if they exceed a certain amount. It may be helpful to keep an eye on your legal fees and make a plan to deal with it if they are becoming too expensive. Your lawyer or accountant may also be able to let you know if any fees in your matter are tax-deductible. Speak to your lawyer and ask what you can do to help keep legal fees down. Although this may vary from case to case, there is usually something you can do.
A lawyer will typically bill you every time you contact them. There are steps you can take on your end to maximize time with your lawyer and use their services wisely. Lawyers can provide you with legal advice pertaining to your case, but there are many low-cost or free ways to obtain legal information. You can enhance your knowledge of basic legal information by accessing reputable resources on your own and using your lawyer for legal advice and representation.
If you need emotional support during the legal process, connect with a therapist or trusted friend/family member instead of your lawyer. Consider reaching out to your lawyer's assistant for updates or specific questions that don't involve legal advice. When you do need to speak with your lawyer or get legal advice, book an appointment. Important meetings should still take place in person but consider phone appointments when possible as these can be faster (and therefore less expensive).
Being prepared and organized can also help you save money. Come prepared for every meeting with your lawyer and organize your documents in advance. Make notes, come prepared with questions and get back to your lawyer promptly with they request information. Learn what you can on your own by accessing available resources in your community or online.
For more information on where to find free or low-cost legal information and advice in Nova Scotia, see our Legal Information and Legal Help Directory.
The NSRLP National Directory also provides a list of lawyers and other professionals in your area who provide affordable assistance for self-represented litigants, primarily in the form of unbundled legal or limited scope services.