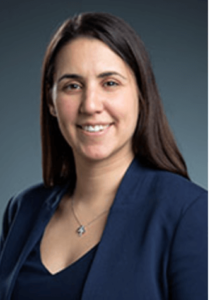 The NSRLPE welcomes Maya Hamou as an Access to Justice All-Star!
Maya Hamou is a legal research and advocacy professor at the University of New Brunswick. She is also a Hearing Officer with the Department of Justice and Attorney General for New Brunswick.
She is actively involved in the pursuit of access to justice as a member of the Access to Justice New Brunswick Law Society Task Force. In 2021, this team issued a report detailing policy recommendations to address the issue of access to justice. Simple reforms were identified that provide marginalized individuals with the legal information they may require. For example, updating the lawyer directory with additional information on languages spoken, area of expertise, etc. makes finding legal aid more customizable to different groups of people.
Another issue identified was the lack of awareness of unbundling services. For individuals with financial limitations and an inability to afford legal services, lawyers can offer unbundling services defined as limited scope legal representation as opposed to full legal representation. Promoting greater access to justice can be as easy as informing lawyers and the public on policies and processes detailing unbundling services.
What Maya says about access to justice reform:
"Many think addressing the issue of access to justice is a big initiative and requires a great amount of funding, but it can be very simple."
Currently, as a small claims adjudicator, Maya sees many self-represented litigants navigating the legal system on their own. She has noticed that marginalized groups have more access to technology than initially thought and certain individuals prefer experiencing their legal journey in the comfort of a familiar place. Thus, it may be useful to look beyond the traditional court setting and broaden the horizon to adapt to societal wants and needs.
Maya continues to inspire the legal society with her advocacy. Thank you for being an A2J All-Star and keep up the amazing work!