Nationally, The National Self-Represented Litigants Project (NSRLP) has been looking at the use of McKenzie Friends in court.
A McKenzie Friend is someone who passively assists a self-represented litigant in court. They may be able to help with tasks such as taking notes or organizing documents.
The NSRLP have developed several resources if you are interested in learning more or considering bringing a McKenzie Friend to court. They cover what a McKenzie Friend is, how to ask the court for one and deciding whether you may want one:
We published a research report by Intern, Brent Campagnola, on the use of McKenzie Friends here in Nova Scotia.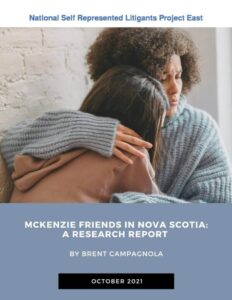 A McKenzie Friend can be a valuable tool for self-represented litigants, however, they remain largely underutilized and unrecognized in Nova Scotia.
Because Nova Scotia lacks a specific rule outlining the role and restrictions on the use of McKenzie Friends, courts may be reluctant to permit self-represented litigants to use support from a McKenzie Friend when they appear in court.
Notably, the report also looks at some circumstances in which the broadened use of Mackenzie Friends may create its own challenges.
The report looks to approaches in other Canadian jurisdictions and concludes that greater use of McKenzie Friends in Nova Scotia could be accomplished through amendments to Nova Scotia's Civil Procedure Rules.